Marabelle Blue's Year End Message 2018
This year has been quite an interesting year.
On a professional level, the magazine has changed… A LOT!
Since moving to Arizona, I have been able to focus my attention on what needed to get done, mostly because since moving out here, I have had more time to take care of things that needed my attention.
As a result of keeping the focus on the magazine and my writings, I was able to conduct probably some of the best interviews within the BDSM Community.
I felt like the magazine, at some point put more of a focus on the Adult side than the BDSM side, and it was time for a change to and really focus on what basically made this magazine in the first place.
With that in mind, this gave me time to think about questions for the interviews. The generic questions weren't enough for an eclectic and diverse community. My interview questions had to be based for each individual but also having those repetitive questions, such as the FOSTA/SESTA issues and dealing with the negativity of different types of social media platforms. I was happy to see, in all of the interviews I conducted, there wasn't a person who didn't have an understanding to an intricate situation. While not one person may have a solution, we all realized complaining and inciting panic, such as, "don't use this [platform] you will lose your money", type thing, doesn't help the situation either.
On the Wikipedia site, the acronyms of FOSTA and SESTA are "The Stop Enabling Sex Traffickers Act (SESTA) and Allow States and Victims to Fight Online Sex Trafficking Act (FOSTA)".
These bills which came into law effective April 11, 2018, was created to stop sex trafficking among minors. Backpage met the downfall once this law came into effect as the government shut down the site accusing the owners of allowing ads placed to lure minors into answering ads where they eventually were subjected to a life serving a pimp (and I'm sure among other things).
I'm not going to get into the whole thing about Backpage because, one, there are people who swore by Backpage while others are happy the site came down. Also, there are many reputable sites where you can find more information on how these laws are affecting people in the Adult sector. I will be the first to say, I am not the FOSTA/SESTA expert.
But with that being said, while Backpage "suffered" the ramifications of their demise, the Fosta/Sesta complications filtered down to various parts of the adult sector. From payment processors, to personal sites, social media and blog platforms, these once "friendly" sex positive sites were taking away our rights to even say the word sex. Tumblr, one of the biggest that I can recall who completely supported the gay community, effective December 17th of this year, did away with any adult content which I knew infuriated people as they invested so much time in blogging their work and producing content for their business.
I wonder if the roles were reversed. If everyone that considered themselves "normal", and these platforms turned the tables on them and said, you can't share hate, you can't share politics, you can only share dogs and cat videos or videos of inspiration, believe me when I tell you, there will be an angry parade marching down the streets because it's okay to be hateful, for as long as you're not hurting anyone….but it's not okay to be fetish, to be gay, to be trans or cis or a porn star, I can go on…but you see my point.
I guess we can thank Mark Stupidberg who, might I mention, is having his own downfall. And if we all stick together, perhaps keep our facebook accounts, but leave it as a dead zone like Myspace is now, maybe he will realize he's not as big as he thought he was or made some "impact" on social media. In my book, he opened a door for hateful people to think they can discuss their propaganda freely. Sorry when it comes to free speech, in my book, it doesn't include hate or inaccurate fucking information.
I can only suggest, when you sign up for a site, see who is the true owner. Such as Tumblr which (correct me if I'm wrong) was once independent, now owned by Oath which is a subsidiary of Verizon Communications. When you understand who's on top, understand that maybe your content may not be welcoming or receptive. Do your homework and know in advance before making an investment for your writings or promoting a brand. When sites come down and you have people scrambling to create a similar platform the herd can run to, sometimes isn't always the solution for a bigger problem. Switter anyone?
So what do we have left in promoting our products for free at least, Twitter. But there's a catch, they won't bother you if you keep your profile pictures and headers clean but otherwise there have been many of times, I barely have one eye opened in the morning, checking my messages, open up Twitter and see stuff in the morning that's just too early to see.
If there is one thing I learned, there's either a group or someone waiting for the ax to fall so they can come to the rescue and be a hero for the time being and believe me when I tell you there's nothing wrong with that, as long as the big monopolies don't come in an offer you an unbelievable amount of money for something you built because it is always the case when someone buys something that was once yours, they will not share your vision, nor complete the goals you aspire to achieve and even more so, is it really helping or are we just playing musical chairs until the monopoly come and says "fuck you, now we own this shit, and you're out."
There's that catch 22, because "money talks and bullshit walks", but at the same time it's sad how money has become the dictator when a corporation sees something and their first thought is to buy it, saturated with advertising and all of our pockets get lined and who cares who it hurts.
In the same breath, it is money that makes our businesses grow and flourish. In order to make money, you have to spend it to get what you want. Sometimes free is not the only thing you can rely on to get ahead. It'll be good for a while until the competition steps in and promotes the same thing you're serving. Then you have to step up your game and make real decisions if you really care about the growth of your own business.
Maybe 2019 is the year that our world gets our own spot and build up for ourselves and those who support us and fuck everyone else. Perhaps we need to retreat and leave everyone else out?
In focus of our Year End, what else happened?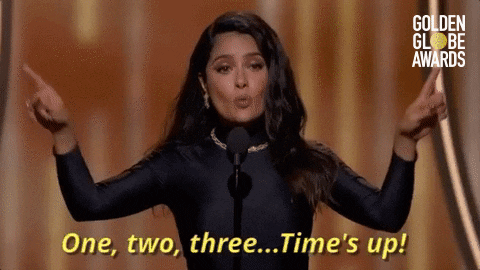 A #metoo #timesup movement began and changed Hollywood to its core when big time producer, Harvey Weinstein was allegedly raping women as an exchange to give them fame and stardom, Bill Cosby charged with raping women in a drug induced state, drugs he gave them. Comedians, actors, network television producers, directors, in one form or another, it seemed that Hollywood began to fall apart as every woman came forward to make their claims of sexual harassment. Names like, Kevin Spacey, Louie C.K., the list goes on and according to Vox, "252 celebrities, politicians, CEO's and others who have been accused of sexual misconduct" https://www.vox.com/a/sexual-harassment-assault-allegations-list .
Rather a disturbing list of people who once upon a time were a respected bunch of people, or at least we thought so.
On Sunday (December 16th), I conducted my final @KEMTopTalk interview of the year with Year End Cover Casey Carter and during our interview I asked Casey why women remain quiet in such situations. Part of it, she said, has to do with the shame, the same shame associated with upbringing, especially when it comes to sex. Women today will still blame themselves for the incident.
On a personal level, I have been there, I know. Sometimes you feel better to stay quiet then to say anything at all. And in case you're wondering, yeah I haven't said anything and I have my reasons.
As for me here at the KinkEMagazine Headquarters, my personal life continues to evolve.
I was happy to reconnect with a friend I lost touch with. Due to outside influences, we drifted apart and the very same negative influences that almost destroyed our friendship are those same that bought our friendship back to life and being the friends we were meant to be. My friend, Bernadette has been quite the busy bee J, she is the author of the book, 'The Gathering'. If there's one thing I know about Bernadette that hasn't changed is she is a hustler and she keeps her goals in check.
When I started writing my Year End Message, I would have never thought I would be including bad news I received on Monday. As I was doing my KEM TopTalk Year End show with Casey Carter, I had received a notification from my ABC15 app, (which is the local news our here in Arizona), that a woman had been shot in Camelback. Anticipating reading it after the show, close to an hour later, I received another notification that the woman died from her injuries. I never thought EVER, that Monday morning, I would receive messages from different individuals that Goddess Sadie was killed. My mind immediately when to the app notification, the one I meant to open and read but didn't until that morning, after hearing the news. Being the diligent person I try to be, I checked other news sources to see if there was a name, and then the Twitter messages began pouring through, sharing the news of her death.
In that moment, I can describe an overwhelming sense of emotion. I even text her to see if my message would go through to see if this was all a lie, but my iMessage wasn't delivered.
Sadie and I spoke right before Thanksgiving and exchanging messages in prepping for her kinkevidsessions and her interview and we even put up her ad on the Domme Directory.
When I first moved out here to Arizona, I had completely forgot Sadie lived out here and it wasn't until I was reading something on facebook (I think), when I remembered she lived out here and we finally met up as she took the time showing me a little bit of Phoenix and hitting up a burlesque show. Such a great time I had with her. In memory of Goddess Sadie, I wrote a piece here.
That week I stared at her last text messages to me wondering why she didn't speak about something that may have been going on where maybe she had concerns for her well being.
Sadly, we will just never know what transpired to lead up to horrible events. As I know most of the details, I will say this, I will not focus on anything negative or hearsay from others who think they know what they are talking about. As Mistress Cyan said earlier today, it's sad when a negative thing happens but finding the positive aspects how we as a community find ways to better ourselves in reaching out and communicating.
And as you all know, I dealt with a very unexpected death, my dog Tessa, who turned 7 years old in March. I don't want to get into a long winded thing because I can't cry anymore. But I will say this, Tessa left a legacy of five puppies, all which have great homes, including mine because you know I kept one and if you follow my @TheYorkieCrew – and while most people thought I was crazy back in the Bronx having four dogs, my little Una doesn't disappoint in emulating much of her mommy Tessa's ways. Sometimes even her little movements and behaviors are just like Tessa. While Una does not replace Tessa, my heart still hurts from the loss of my crew and I miss her every day and her legacy lives on. I was blessed to have her for as long as I did and she will always be remembered.
In the essence of 'time', every day we wake up, we make decisions for our day, what we plan to do and what we are going to do to achieve it. How many times have we gotten in our car and not really thinking about anything but just getting to our destination? Think about those who never arrived. I'm not trying to come off as dismal but how many times have we said, "I'll do it tomorrow", "I'll call them tomorrow", "I'll make it a point to see them tomorrow".
And what has time taught us? Earlier this year right before David Cassidy died and his last words were "too much time wasted".
It's time we realized that time has taught us not to waste time. Take everything you have and apply it now.
While there were many tears and complaints, what does 2019 hold for you?
As painful some parts of 2018 has left me, I also was fortunate enough to build wonderful memories and unforgettable interviews and relationships I am building with respected members from the BDSM Community and beyond. I had the pleasure of interviewing Madame Margherite, who has become so influential in my journey, Casey Carter who I connected with recently and has been so extremely helpful and inspirational and thank you for closing the year out, Amberly Rothfield, author of 'How I Made $10,000 a Month as a Phone Sex Operator', Mistress Rage for launching the first of many KinkEVidSessions, Dirk Hooper for his support and his continued work in educating our community, David Shorb (formerly J.L. Gothos), Mistress Kye, Ness Bow, Andy, Master WolfGang, Frank Lucier and all of my fantastic writers who just keep pulling out all the stops from advice, stories, features and more!
Of course I can't forget my dear friend Erika Icon of The RubPR, thank you for listening to me and being so completely understanding. I hate forgetting anyone but know a deep thank you to all for being such beautiful people. If I named all I would just be writing a book, but know that all I connect with through Twitter and Instagram, thank you so much for making this such a wonderful year through the bad and the good.
When we stand together, we allow the removal of those who go against the grain of what we are trying to build.
My journey continues, meeting people who are focused on their goals and aligning ourselves on our parallel paths because we know we cannot do this alone.
I wish you all a very Happy New Year, a prosperous 2019 and most importantly, Keep it KinkE.
Take Care of You.
Marabelle Blue, Editor and Owner of Kink~E Magazine and is the author of An Illegal Affair sold here on Amazon on Kindle and Paperback
https://www.amazon.com/Illegal-Affair-Trilogy-Affairs-ebook/dp/B07646V97R