Erotic Stories - The Clip
Surprise me with something. Use your creative imagination. You know me well enough to know what I like and appreciate. Make my blood flow. Make my toes curl. Give me Goosebumps and tingles.
Make me want you.
Surprise me!
HAPPY VALENTINES DAY!
~T-Boner
-------------------------------------------------------------------------------------------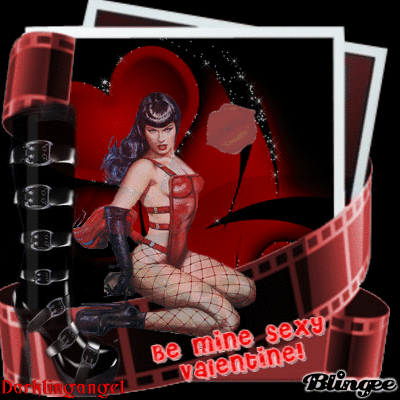 The Clip
We wake up together. You wake up horny as hell, restless and very touchy-feely and extremely wet. You wrap your right thigh around my left thigh and I feel how wet your pussy is as you rub it against me. I awake with my thigh moist and my left ear lobe being gently nibbled and licked. As I get hard you massage by smooth balls. I grow in your right hand while you run your tongue up and down my neck and jaw line.You want mad, crazy sex immediately. The alarm clock suddenly goes off an hour late! "Holy fucking shit!" I say as I jump up. "I have to leave early to go to work. I have an early appointment. I forgot to tell you." I jump out of bed, with my hard on bouncing. You look at it and and find that funny, but I'm leaving you wet and frustrated. You're totally frustrated and a little miffed. I bend over to give you a little peck on the cheek to calm your nerves. You turn away from me in anger. I tell you that I'm sorry that I didn't tell you, but you are really disappointed. To ease your frustration I show you something that I bought for you. I say "I was going to give this to you tonight, but this may ease things for you and your lust for me today."
As I open the night table drawer to take out a little box wrapped in a little red and white paper bag, you sit up to see what I have in sudden curiosity. I fumble to take it out of the bag and in the box is a little piece of odd looking jewelry. It slides out on the wet, wrinkled sheets. You wonder what this funny shaped ornament is.
"Let me explain this. I got this for you for days like this when you feel extra horny for me or in general. You slip this on your clit as a clip and keep it on for the day. It will keep you uncomfortably wet and horny all day long. And it makes your pretty pussy, even prettier."
"Why would I wear that and be uncomfortably wet and horny all day long? When I'm wet and horny, it's uncomfortable as it is without that. Besides, it looks really uncomfortable." You say with annoyance.
"I'll show you something." I say hurriedly. I spread your legs apart and put my face and mouth between your legs to taste your wet pussy. I lap it up a little and find it awfully difficult to leave that heavenly corner. But I must leave for work. I grab the clit clip and clip it on your labia and clitoris. Since you're so wet and turned on, you find it very erotic.
"How does that feel?" I asked you precociously as I wiped you from my mouth with my arm.
"It feels uncomfortably erotic." You start wiggling your legs and to make your clit aware of the intrusive yet welcoming accoutrement.
You stand up out of bed and take a few steps, and notice that when you walk you feel it rub against you. You really couldn't describe the sensation, but it was close to feeling someone finger you as you're walking.
"This is wildly strange. I thought I was going to find this really uncomfortable. I could see how it could be because there are moments I feel it move, but when I stop moving, I don't feel that clip on me. I guess I could forgive you for leaving early." You say humbly.
"Take a shower first, with or without that clip on, finger yourself to relieve your urges, then put it on after that and keep it on all day long and every time you move your legs, especially when you're swiveling on your swivel chair at work or walking slowly, you'll not only think of your wet pussy squishing between your labia, but you'll want my talented tongue all around your wanting pussy", (between my charm and the charm I gave her, it swayed and converted her obtuse mood).
I get dressed speedily while you're fussing with it. I'm about to leave you. I step over to kiss you goodbye and you notice that I didn't even brush my teeth. "You need to brush your teeth and wash your face. You taste of morning breath and me. Gross!" You wrinkle your face up and turn your face away from me.
"No time. I'll do it when I get to work. Bye."
I leave to go to work. You jump in the shower. You immediately touch yourself with that clip on and came immediately.
The shower, get dressed and go to work.
Just before you left the house, and remembered the clit clip. You pull up your skirt and moist thong/panties, and you clip it on. Just that action, starts to get you horny all over again. As you squish away, you feel that sensual twinge against your clit.
Your body gets used to it after a few hours, don't notice it on and forget about it. Around lunchtime you swivel around your chair to get up. And you felt that twinge of metal rubbing your clit. You get incredibly turned on and wet for the moment. You have to sit back down to regroup yourself. Your face gets all flush and a cold sweat comes over you. People pass by your desk and wonder and ask how you are. You assure them that you're fine. You ask yourself, should I go in the bathroom to remove this? You consider it strongly, but you get up again. As you get up, you feel it again, but now you know what to expect. You grab your pocketbook and proudly strut away. The two women had passed by your desk notice your confident and proud smile and look about you. What an about face.
You just have to go to the bathroom, sit on a toilet seat and relieve yourself. The sensation of that clit clip is incredibly strong. You drop your pocketbook, lift up your skirt and slide your fingers in between your wet pussy and panties. You immediately feel some gratification just by your slightest touch. How you wish it was my fingers or tongue. You leave the clip on and use it to wiggle your clit around instead of your fingers. You cum in record time.
You grab your bag, wash up, look at your satisfied face in the mirror and mutter, that man, that crazy, wonderfully perverted man. You manage to finish the rest of the day.
I call you after you get home from work to tell you that I'll be home later than I thought, further adding to your frustration and stress. And you still have the clit clip in all day stimulating you. So you say' What the Fuck' to yourself and go on the bed, disrobe and get your favorite vibrator to use on yourself with that clit clip on. You're going for a record in the frequency of masturbating in one day.
You set yourself spread Eagle on the bed and start working it. Instead of putting the vibrator tip on your clit, you put it on the clit clip. It makes a metal vibrating noise, but it only adds wild thoughts and fantasies to your incredible stimulation.
Now that you know what it feels like to have it on all day, you've conquered and learned how to deal with that wild friend on your clit.
So now, you imagine as you are touching yourself with your right hand and your left hand is cupped around your right breast while your fingers are gently massaging your right nipple. Your right forearm is rubbing up against your left breast and nipple. All bases are now covered with your own stimulation. You close your eyes and imagine yourself at work and you are sitting at your desk and the clip vibrates on its own. You are surprisingly delighted. You jump up suddenly, practically off your chair, as if you got an electric jolt, tickle or spasm. You most certainly did get a spasm of epic clitoral proportions. That jolt of electricity triggers a rush of adrenaline right through to your pussy. You don't know how to handle yourself in front of everybody. Good thing you're sitting down. You try and adjust your legs on your seat. As you do that, the clip vibrates more by itself and moves just the right way. You start to wiggle and writhe with intense pleasure. All your coworkers start looking at you curiously. What excuse do you give them now?
You say "I'm getting very bad cramps." And run into the bathroom. As you get up that vibrating clip won't yield its stimulation. You get up abruptly and you forget to bring your bag. You run in the stall, barely close the door behind you, pull your sopping wet panties down and let your fingers and the vibrating clip do their job in unison that. Good thing you're alone. The screams, you let out are loud enough to hear from the outside hallway which is luckily empty. You bless and curse me for getting you that damn clip!
About 8:00 I arrive home. You tell me about your "clit clip episodes" of the day over dinner. Needless to say, we barely eat at all, even though we're practically famished. It's such a turn on for both of us. I jump you and fuck and pound you hard.
When we finished that amazing fuck, you say that you want to get even with me by getting me a special cock ring to wear all day. "You're going to have an uncomfortable, throbbing hard-on all day." You say with such a determining endorsing smile.
Surprises
Surprise me with something tonight. It could be a thought. A toy. A picture. A card. A joke.